VISIONARY MUSIC, Shulman, Williams, Colette & Phil, Dreamseed, Martins, Sometimes Y
SINGER/SONGWRITERS, Steven Walters, Kirtana, Barbara Saint John, Clan Dyken, Jeff Curtis
MANTRAM AND MUSIC FROM INDIA, Anoushka, Ravi Shankar, Krishna Das, Rasa
MISCELLANEOUS AND INTERESTING, Sarah Vaughan (Pope John II!!), Black Light Braille, Orchards & Vines, Cuban Music
SOME MUSINGS ON MUSIC & PROMISES OF THINGS TO COME!!

VISIONARY MUSIC

Richard Shulman - Magnified Healing (1998); Music to Walk the Labyrinth, Synthesizer Music for the Inner Journey(1999); Light From Assisi (1991); Keeper of the Holy Grail - with Samuel Welsh (1997); Ascension Harmonics - with Samuel Welsh (1994)

Richard Shulman's music heals. The innermost and delicate recesses of the heart open as we float into a consciousness that holds us gently in its all ways healing kindness. These few words are a paean to that healing. How many times have I been distraught, perhaps over this declining body that even as I write this, sits tethered to an oxygen tank? With Ascension Harmonics on the CD player, head phones on my ears, I lie on the living room floor and let the enormous cathedral tonalities take me to peace, to surrender.
Like a Gothic cathedral, the layers of music reach deep into love. I think my favorite is Ascension Harmonics, possibly because I played it on the air so often that it compelling passages of devotion reach out to take me with them. All five of these extraordinary pieces of music, however, share the magic of being bridges to realms of peace. They are neither classical nor "new age" but a combination of harmonic development that has us resonating to them.
Shulman is also a jazz musician, but I haven't heard enough of his jazz cd's or cassettes to review them.
In his flyer, he talks of "amplifying the divine qualities inherent in each one of us." There are few musicians who open up my heart as unfailingly as Richard Shulman. www.richheartmusic.com
Simon Williams - - - Gentle Rainstorm -- - This is uninterrupted 64 minutes of piano music to the changing sounds of a rainstorm. Very rarely a clap of thunder breaks into the revery-style tenderness of the rain, enough to bring us back to our bodies for a moment! Of the many combinations of "nature" with sound CD's, this is one of the most successful. Each note drops into our consciousness with clear light, leading us, as all good music must, from one phrase to the next, from one state of calm to the next. This music is wonderful both to objectively look at one's reality as well as to transcend it for a while! www.svpworld.com
Paixões Diagonais - - - Mísia - - these soft Portugese love songs are perfect listening for rainy evenings with or without candle light. Portugese is music in itself. Diagonais beautiful voice touches pathos, sorrow and joy; never banal. Good listening. email: worldmusic@nichestrategies.com
Colette & Phil - Ancient Ancestors, Songs for Spiritual Travelers. This beautiful music is a river of soft sound that takes us from the Dolphins in 2012 (!) to Atlantis Revisited, and ends with music designed to help our personal and group Ascension. It feels almost as though the vehicles of ascent are angel wings delicately cradling our souls. I really like it; imagine yourself slightly stoned and very relaxed lying down on the floor with earphones. Listening to this gentle CD last night softened my dreams. The back of the CD says, "Secrets of the Past, found in the future, become the Yin and Yang of change, awakening in humans the desire for Spiritual Enlightenment." email: litewrkr@flash.net Highly recommended. www.ancientancestors.com
Vasco Martins - - - ApEiRoN - - cannot remember how Vasco Martins found Changes from his paradise home in Cape Verde, but Iím so glad that he did. The sweetness of heaven sings through his music; this is music to "trip" to in the most spiritual sense àMore than 2500 years ago, the philosopher Anaximander created the concept ApEiRoN signifying the indefinite, the original entity of the world, from which all substances in the universe were created.ÖÖMusic is the way to reach the ApEiRoN." Martinsí music does build that mystical bridge. I like it very much.http://www.mp3.com/vascomartins.
Dreamseed & Riverfreedom - - - Didjeridoo Dreamtime - -
The nude male/female shaman on the cover is blowing universes out of his/her didjeridoo, turtles and spirits and humans and oceans and suns and the world. This cover captures the wonderfully spacey magic of this music. The back cover says, "Come explore the infinite depth of your soul through this sonic shamanic journeyÖRide the healing waves of the didjeridoo back to the center of your beingÖÖ" Let your pineal gland, your third eye, entrance itself. Even sitting in front of the computer becomes an adventure in inner and outer space with this CD lending its magic to your musings. http://www.sonicshaman.com

Sometimes Y Ö I Am .. all the songs were written and are sung by an extremely talented woman name Lora Nigro. Not quite jazz, not quite rock, not quite folk, these songs touch the quivering heart of us with superb thoughts and excellent sounds. The music varies from acoustic to electronic, sometimes within a song. I like this and expect to listen to it a lot. The song Redemption says: I know about the issues of the left and right/ I now about the prejudice towards certain ways of life/ I know about collective sin, the sings against the earth/ I know about redemption, I have carried it from birth. I FEEL GOOD. WONDERFUL. I'm sitting here feeling good. www.askY.com


back to the beginning!!



SINGER/SONGWRITERS
Steven Walters - - - Just This Moment - - There are a handful of singer/songwriters whom I particularly love and played on the air over the years. One of them is Steven Walters. Slated to die of cancer some years back, he sings of love and pain and makes the ordinary extraordinary. Lots of changes in rhythm, tone and subject matter, from Jung to god and back. He has several CDs out. This is his first, I believe, and was recorded live.
Kirtana: Kirtana is in love. She is in love with the universe; she is in love with her teacher, Gangaji, to whom the CD, This Embrace is dedicated. She is in love with you and with me, and I am in love with her and her singing. There are a few musicians who consistently bring me out of the sorry for myself blue blahs. Jon Anderson is one. Richard Shulman is one. Kirtana is another. I have two of her CD's, The Offering, Epiphanies and Prayers and This Embrace. If I have any criticism at all it is that her music itself might have just a little more change of pace, although it is perfectly wedded to her beautiful words. Instead of rambling on about how much Kirtana's music and content mean to me, let me quote from one of her songs: Many differences separate us on the surface, yes
But I cannot find a boundary in consciousness
And when you ask me
where does awareness begin and does it end
I have to say, I have to say, I've always been
at the silent core, and yet before phenomena began
And after it, and after it, I am.

Toll free phone number; Wild Dove Music - 1-877-WILD DOVE (945-3368)
Barbara Saint John - Emily and Cosmic Shindig. The title song, Cosmic Shindig, is one of Changes Radio top 40's. (Welcome to the Cosmic Shindig!!) Barbara Saint John's clear, sweet voice can go from very rhythmical to pure folk. But Emily, a song about Emily Dickinson, and how many songs about that strange, sentient, shy poet have you ever heard?, won my love. Not many people would recognize, as Barbara does, that Dickenson in her totally cloistered life was killing off giants and conquering the world. A catholic feminist with a heart open to both the beauty, sorrow and injustices of our world, Barbara Saint John resonates with spirit and especially with spiritual women. Many of these songs have me moving my body in and out of time; the words fill me with hope and the determination to continue to be of service. Besides, I like the music. Try them. Barbara Saint John, Mystic Pilgrim Music. P.O. Box 22-0051, Greenpoint, NY 11222 USA... email: BSJPilgrim@aol.com

Clan Dyken Revive the Beauty Way .. this joyous rock-bluegrass-y band bounce us along their musical commentaries on our social insanities. What Cha Going to Do With That Stuff wonders about the proposed nuclear waste dump 17 miles from the Colorado River. Thank You For the Music is a mantra of thanks we could all be singing. Clan Dyken has made many CDs, but given my own personal proclivities, the one I enjoy the most and really want everyone to know about is Green Prayer with its paeans to pot, songs like Let My Seed Grow, Herb Doctor, Can't Touch the Herb.
Clan Dyken is a family that walks their talk, lives out in the woods. They like tie dies and drumming and their music is a magical melange that's great for dancing. As their prayer says on Revive the Beauty Way , give us the courage and will to grow through The Change.

Jeff Curtis Ö Dreams .. Jeff came dropped into our house one night and casually asked if we'd like to hear him play. Paddy and I were blown away. The is the kind of guitar music that you can hear over and over again without getting restless. It's good for background music; it's good when you really want to pay attention and drift into it; it's good. Shellface Music, P.O. Box 67, Westbury, NY 11590

MANTRAM

Anoushka Shankar- - - Anourag - - Anoushka Shankar (yes, she IS the daughter of Ravi Shankar) brought out her first CD, Aboushka, when she was only 16. She is now a Master Musician at 18. Her father not only wrote the music on Anourag but accompanies her on several pieces. Two profound sitars! If you love music from India, and if you donít, you probably have never given yourself the pleasure of deeply listening as the layers unfold. Try it. These songs are not as long as some of the penetrating ragas that both Anoushka Shankar and Ravi Shankar play another CDís, but the music carries the soul. In the liner there are some notes on Ravi Shankarís notations: for instance Da -------1-----m3enas under the notes and
Chikari side stringÖÖcÖÖmeans under the note, etc. Having never been handicapped by the Western well-tempered scale and being a music intended to open the soul, music from India has a transportive quality, a delicacy of scale that is meditative magic.
Father and daughter are doing a world tour through April of 2001; watch for them, they may be creating their musical wizardry where you live. www.angelrecords.com
And just a preliminary word on the bhajans of Ravi Shankar (produced by George Harrison) and the bhajans of Krishna Das (www.triloka.com), I find Krishna Das on the CD Pilgrim Heart carries me away. The Shankar CD, Chants of India, is not as deeply moving. For me at least.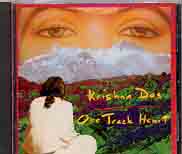 However, a very beautiful collection of Vedic devotional mantra, RASA, dedicated to His Holiness B.C. Bhaktivedanta has just arrived. This soft entry into the ancient hymns of India has great beauty. To those of us who cut some of our spiritual teeth on the Mahamantra of the Hare Krishna movement, these quiet melodies will be a pleasant revelation. They are sincerely devotional and lovely in their melodic harmonies. Highly recommended:www.hos.comHearts of Space
MISCELLANEOUS AND INTERESTING

Sarah VaughanÖThe Mystery of ManÖPossible the star of this song cycle is Pope John II who wrote some of the poems these songs are based on when he was still a young Polish priest, Karol Wojtyala.. Recorded at a concert in 1984, there are some touching songs here, sung magnificently by Vaughan. "So many people inside me, living their lives, seeing all that I see, speaking always through me." Kokopelli Records - 1-800-289-4853

Blacklight BrailleÖInto the World of the Gods and The Castle of the Northern Crown .. pagans with lots of different instruments playing, perhaps a few too many. I kept thinking of Gwydion, the pagan troubadour who died some years back and never did have a CD that I know about, trying to hear what he might have said: "Your song ideas are fine, stop trying to be so fancy!" Or maybe that's me speaking. On the simpler songs like Something to Show, the content comes through clearly. These folks are not Jethro Tull, but they could get there soon. Worth listening to. There isn't much good pagan rock around, and this is good, just not great yet. 513-242-8000.
Orchards & Vines Ö tomorrow's yesterdays .. I really wanted to love this album because one of the women is on The Sharing Place, my e-mail family. (see www.changes.org home page) However, what I love are the words of the songs, and to my ears the fine poetry deserves better music. It's not that the music is bad; more that's dated, a sort of pounding rock reminiscent of the 60's. This isn't the beat of trance music not even heavy metal. I hope that their next album weds the words, which are actually heavenly, with a music that enhances them more. Makes me feel bad not to be more positive. It isn't bad music; it's just deserves to be better.www.orchardsandvines.com.
Some Cuban music: Havana Now ÖLas Brisas de Habana and The Havana Sessions .. these totally delightful albums shine with charm, a soft communication that lingers in my eyes and heart, softening both and making me smile. Unpretentious and melodious. I always wanted to go to Havana. Now, although ill health has made that impossible, Cuba has come to me to lighten my days. With many different artists singing and playing, the songs are, well, sweet!! www.edelamerica.com

MUSINGS ON MUSIC

Music is magic; it opens the heart. It weaves a web around the drunken monkey mind, takes us out of sorrow and worry and into the grace of love. You, and all of us and all of the world, deserve the moments of peaceful fulfillment with visionary music, deserve to dance joyously to rock, deserve to grin with blue grass, exalt with gospel, sorrow with grand opera.

Music is a language that transcends concept or combines with it to lend ideas new force.

There are so many relatively unknown artists, singer/songwriters, composers who deserve to be heard. If the work I've done on the above little reviews helps one of them, these hours of work have been a blessing. Sorry. I don't have the latest in rock. What!! No new Phish, no Disco Bisquits, no. No. Hopefully by the next cd review page, they'll have come to me, or perhaps one of you would like to help contribute. Probably it would be smart to have somebody a little younger than me commenting on a genre which changes so fast. ALSO next time a few comments on the collection of Cuban and South American music that has collected here. Maybe some African cd's also.

Next time around (and it will be a while as I get back to my Book of Now) I hope also to do a special section on Native American music. Among other yet unknown possibilities. Right now I'm listening to the music from Cuba and just heard myself say out loud, "Oh, isn't that beautiful!"

Wearing my music editor hat - love, Elizabeth

www.changes.org


back to the beginning!!! forever!!!